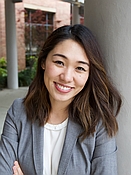 Emily Yang
13785 Research Blvd.,
Suite 125
Austin, Texas 78750
(512) 633-2204
---
I grew up in Katy, Texas and attended the University of Texas at Austin for my B.A. in Political Science, before going on to the University of Houston Law Center to receive my J.D. While attending law school, I completed an internship at the Fort Bend District Attorney's Office in the domestic violence division, during which time I assisted with representing victims in criminal cases. I also completed an internship in private practice handling various civil matters. I was part of the immigration clinic during law school, which took on asylum cases on behalf of victims of persecution and represented immigrants who have been the victims of domestic violence, human trafficking, and other crimes.
After being licensed to practice law by the State Bar of Texas, I spent several years working for firms in the Houston area, gaining experience in various practice areas including immigration, civil litigation, and family law. In 2018, I returned to the city of my alma mater, Austin, and I have focused my practice exclusively on family law. I believe my diverse legal experience has honed essential skills such as courtroom advocacy, attention to detail, and compassion for each client while handling delicate matters. I have been trusted to handle all kinds of cases, including difficult custody disputes, divorces and divisions of property, and enforcements and modifications of existing court orders. I understand that clients usually come to us in a difficult time of their life, and I am committed to providing service and representation that makes the process as stress-free as possible while protecting our clients' rights and assets.