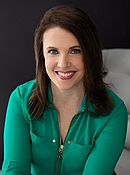 Carly Gallagher Murray
13785 Research Blvd.,
Suite 125
Austin, Texas 78750
(512) 633-2204

---
I attended Millsaps College in Jackson, Mississippi, graduating in 2002 with a B.A. in English and Philosophy. I then attended the University of Memphis on a full-tuition scholarship, graduating with an M.A. in Philosophy in 2004. I obtained my J.D., also from the University of Memphis, in 2007. While in law school, I was active in student government, moot court and mock trial, and I traveled across the country as a member of a competing environmental law moot court team. I received the highest academic recognition in mediation coursework, and I was named the 2007 school-wide mock trial competition Overall Best Oral Advocate. I also received the 2007 Dean's Distinguished Service Award.
I got to Texas as quickly as I could and opened my own family law practice in January 2010. Since that time, I have been able to use my strengths in communication, problem solving and trial advocacy to help families. I recognize that my role in the kinds of family law matters I handle is an important one. I have both the ability and the unique position to combine compassion, creative conflict resolution, and knowledgeable advocacy to help my clients, often through very difficult situations. I feel accomplished when I can lead a client though a challenging family law matter, helping them to feel informed, empowered and supported, and come out at the other side able to successfully merge into their new normal.
My family is the cherished center of my life, and I know my clients feel the same way about their families. I do not take the responsibility of tackling my clients' family law issues lightly. While issues affecting families are often very stressful, having the right attorney can make the process easier. Should you find yourself with a family law problem, it would be my honor and pleasure to serve as an advocate and guide through the legal process. Contact me today.